"Suspected them all – from family to friends"
Av: Oskar Månsson
Publicerad:
Uppdaterad:
Sven-Göran Eriksson is seeing some justice after the scandal – the newspaper apologises: "Wow"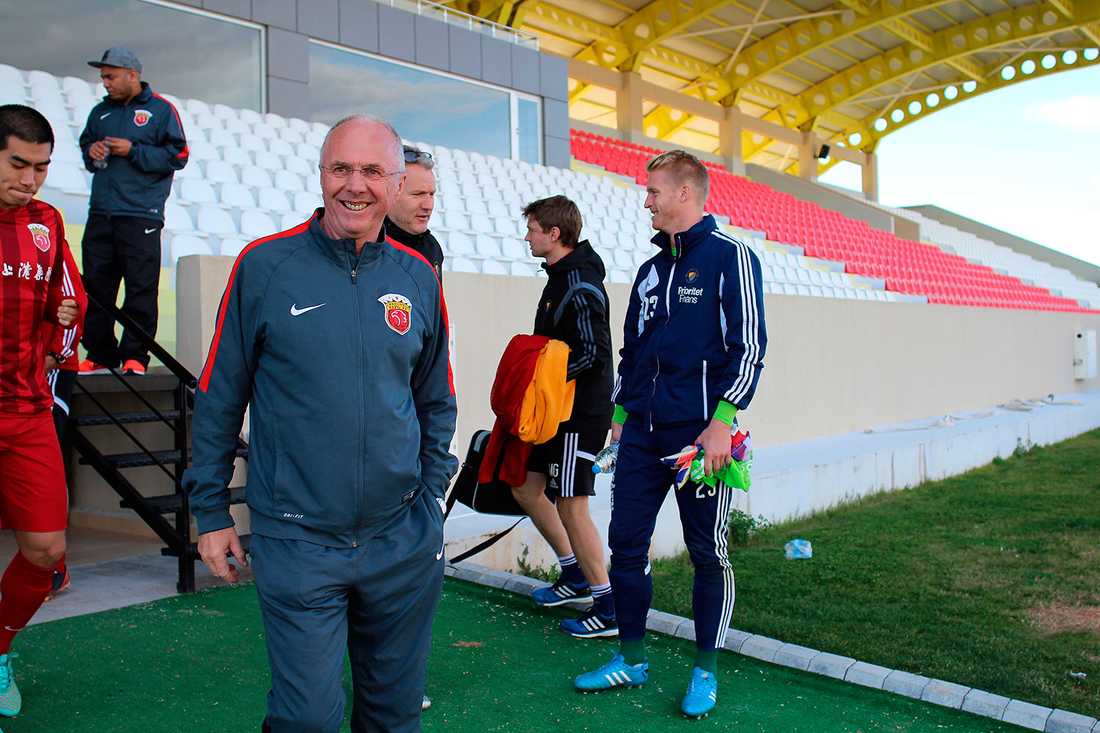 Foto: Karin Lillbroända, dif.se
Sven-Göran Eriksson.
SIDE, TURKEY. Sven-Göran Eriksson is seeing some justice after the wire-tapping scandal in England.
Yesterday the newspaper Daily Mirror published a public apology to "Svennis" and the other celebrities who got their privacy portrayed in the press.
– Wow! It's about time, says the 67-year-old legendary manager when Sportbladet meets him in Turkey.
His career is so wast that it is hardly possible to comprehend.
From Degerfors, Gothenburg, Lazio, the England national team, Manchester City and a number of other employers Sven-Göran Eriksson has seen himself end up in China.
In 2013 and 2014 he trained Guangzhou R&F and from this year he has taken over another club from a giant city, namely Shanghai SIPG. The club's venture is large and spectacular but yesterday they lost against the Swedish side Djurgården by 1-3 in a friendly during the teams training camp in Turkey.
– Djurgården was good, we were bad, "Svennis" summarizes laconically.
"Wow"
But his tone changes when Sportbladet informs him that the Daily Mirror has released an apology.
– Wow! is ths spontaneous reaction.
He continues:
– But it's a little too late. I had left that behind, but it was crappy when they were at it. I did not know it at the time, I found out much later.
It must have been nasty?
– Yes, clearly nasty. Obviously. I do not know exactly how it worked, but they intercepted text messages and could wiretap here and there.
Got a call from Scotland Yard
– One day the phone rang from Scotland Yard who wanted to talk to me and I thought "what now?" Then they told me that my phone was tapped for at least two years. You start to put two and two together ... wow. Then you understand why things are revealed in the newspapers. The painful part is that you suspect everyone, from your own family to friends and acquaintances: yes, everyone.
When private information is revealed?
– Yes, exactly.
In addition to the public apologies by Daily Mirror (and its sister papers The Sunday Mirror and Sunday People) to Eriksson and other celebrities such as Paul McCartney, Heather Mills, Jude Law and Wayne Rooney they have decided to pay up to 12 million british pounds to the victims of their interceptions and wire-tappings, which is triple the previous amount.
Publicerad:
Sportbladet – Allsvenskan
Prenumerera på vårt nyhetsbrev om Allsvenskan – krönikor, reportage, intervjuer, granskningar och rankningar.